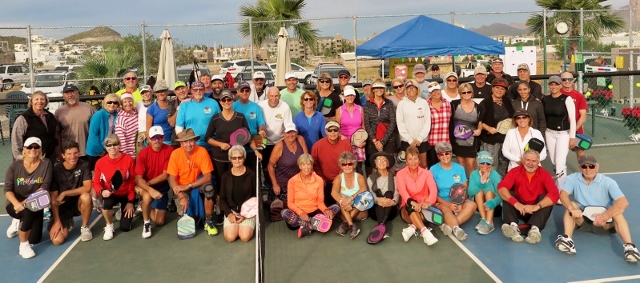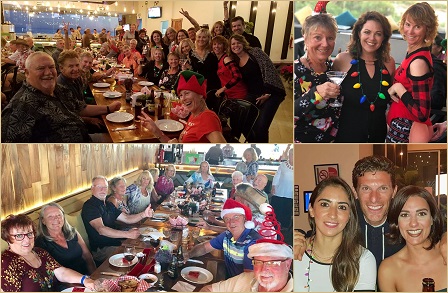 ---
Skills & Drills Clinics at Mirador Courts throughout the week
Starts Monday, January 7. Mondays: Theresa (T) leads the clinic for High Beginner & Low Intermediate players, starting at 8:00am.

Starts Tuesday, January 22. Tuesdays: Darren, James or Deb lead the clinic for High Intermediate and Advanced players, starting at 8:00am. If you're going to participate, you should already know what these shots are and use them consistently in your game: a volley, dink, third shot, soft shot and drive.
Thursdays: Michele leads the Beginner's & Beyond clinics at 11:00am. The focus is on learning the game and on reviewing the fundamentals.
A huge THANK YOU to all the players who have offered their time and expertise to lead and help with the various weekly skills & drills. Come on out and improve your skills with some of the top players in San Carlos.
---
George McIvor Celebration of Life, January 13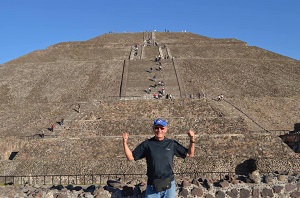 Please join Sandy McIvor for a Celebration of Life for George on Sunday, January 13 from 4:00pm – 7:00pm at the San Carlos Golf Course Club House. This will be an opportunity for everyone to share a story or memory of "Jorge". Appetizers and drinks will be available. If you would like to contribute an appetizer, please contact Alison Boyle at daboyles@yahoo.com.
"A time to remember, not to mourn" – Sandy
---
Beach Bonfire, January 14
Everyone is invited to a beach bonfire on Monday, January 14. Two pickleball pro's, Christine McGrath and Ben Johns, will be joining us and this will be a great opportunity for us to say Hello and welcome them to our beautiful town.
The fun starts at 4:00pm.
We'll be at Lalos beach (aka Piedras Pintas). Follow the dirt road around to the left towards Tetakawi mountain until you can't drive any further.
Bring:
*Something to share with others
* BYOB
* A chair
The makings for S'mores (of course!) will be provided.
Dress warmly as it'll get cold once the sun sets. Hope to see you there!
---
Ben Johns / Christine McGrath Pickleball Clinic, January 15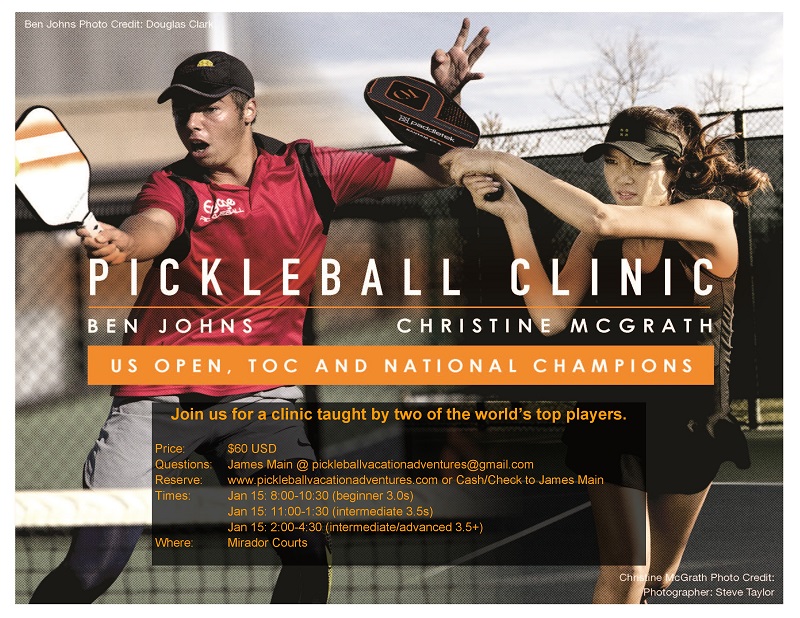 On Tuesday, January 15, join Ben Johns and Christine McGrath, two of the best pickleball players in the world, for a pickleball clinic in San Carlos.
The clinics will be held at Mirador Courts and all San Carlos Pickleball Association members are invited to attend.
The cost is $60 USD. If you are not a member of Mirador Courts, you will need to purchase a 100 pesos day pass at Seaside Realty (Karen Stewart's office).
The clinic schedule according to skill level is as follows — THIS HAS RECENTLY CHANGED:
8:00am – 10:30am: Intermediate/Advanced (level 3.5+)
11:00am – 1:30pm: Beginner (level 3.0's) AND Intermediate (level 3.5's)
There are still some spaces left. For more information or to reserve your spot, please contact James Main at skywalkmaverick@msn.com or call 253-226-5964.
Don't miss out on this special opportunity to improve your game and get up close and personal with these two champions!
NOTE THAT THE COURTS WILL BE RESERVED FOR THE CLINIC SO THERE WILL BE NO OPEN PLAY ON THIS DAY. THANK YOU FOR YOUR UNDERSTANDING.
---
"Refresher" Referee Clinic, January 21
Many of you have come out to our referee clinics in December, with the goal of learning how to be a referee.
For you, and for those who are familiar with reffing but want some refreshers before the February tournament, we are holding a "refresher" referee clinic on Monday, January 21 at 1:00pm at Mirador Courts. This clinic is mandatory for everyone who plans to ref in the February tournament.
To prepare for Monday's clinic, please do the following (if you have not done so already):
1. Watch this excellent Pickleball Referee Training Video called: "Ultimate Quick Start Guide to Reffing in Pickleball". Click here to watch.
2. Download the latest USAPA Referee Handbook.
Even if you're not sure if you're going to ref in the February tournament but are interested in learning how to ref, give it a try … it will help you learn more about the rules of the game. If you're injured and can't currently play, this is a great way to stay in the game.
Please bring your pickleball paddle and wear court shoes.
Then on Friday, January 25, there will be a Beginner Round Robin tournament at Mirador Courts (see info below). This will be an opportunity for the new refs and experienced refs to get practice in their role as referee.
Please email Becky Lupo at blupomx@gmail.com to let her know if you are able to ref during the Round Robin, even if only for a few hours (don't worry — if you are new, you will be shadowed by an experienced ref until you are ready to be on your own).
Note that in February's Sombrero Showdown tournament, refs will be paid 50 pesos per game. With the extra day added to this year's tournament, we are in need of refs, so please help out if you can.
---
Maintenance HELP at Courts, January 24
Please volunteer 1 hour of your time on Thursday, January 24 at 11:00am. We are going to put more black fence protectors over the top fence where spectators will watch the Sombrero Showdown in February.
If you're able to help, please email Christa at christa@whatsupsancarlos.com.
---
Beginner (2.5) Round Robin Pickleball Tournament, January 25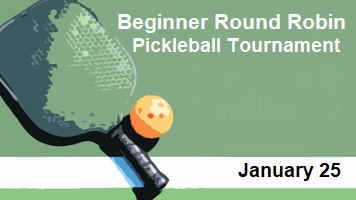 A Beginner (skill level 2.5) Round Robin Pickleball Tournament will be held at Mirador Courts on Friday, January 25. This will be a fun tournament with other beginners where you can challenge yourself, start to feel what it's like to play in a tournament, have a lot of laughs and make new pickleball friends.

Not sure about your skill level? The USAPA provides Skill Assessment Sheets on their website. Click here for assessments for levels 2.0, 2.5, 3.0, 3.5, and 4.0. You can also ask Michele Monlux to help determine if this tournament is right for you.

This tournament is a Round Robin format. You will play all your games to a score of 11, each with a different partner and against a different pair of opponents. These games will be officiated by a referee.

For participating players, on the day of the tournament, meet at 8:15am at Mirador Courts for Check-in. Play will start at 8:30am. Plan on about 3 hours of play.

If you don't have an annual membership to Mirador Courts, please purchase a day pass from Seaside Realty and bring it on the day of the tournament.

To register and if you have any questions, please contact Michele Monlux at: monluxm@yosemite.edu.

NOTE THAT THE COURTS WILL BE RESERVED FOR THE TOURNAMENT SO THERE WILL BE LIMITED OPEN PLAY ON THIS DAY. THANK YOU FOR YOUR UNDERSTANDING.
---
Pro Scott Moore Clinics, February 4 – 5 or 6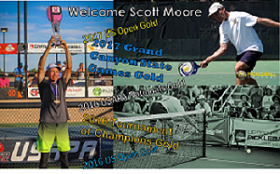 Pro pickleballer, Scott Moore, recently won 5 Golds at the 2018 Minto US Open and we're lucky enough to have him joining us in San Carlos for a boot camp and several smaller clinics in February. Get ready for the Sombrero Showdown pickleball tournament and/or step up your game in general with intensive, semi-private training in strategy, technique, skill development, positioning, effective practice, and mental toughness with IPTPA certified instructors, Scott Moore and Jon Moore. This opportunity is open to all San Carlos & Guaymas players.
Together with a small group of other players, you will improve your mental game, shot making, shot selection, and learn new strategies, drills, and a truly systematic approach to pickleball in order to become a more effective, better player! Choose from the 2-day Bootcamp or Mini-clinic options below.
2-day Bootcamp:
Monday, February 4 and Tuesday, February 5 from 8:30am – 12:30pm with instructional play in the afternoon from 1:00pm – 2:30pm. Cost is $299 USD.
Mini-clinic options:
Wednesday, February 6 from 8:45am – 11:45am for 4.0+ players. Cost is $90 USD.
Wednesday, February 6 from 12:30pm – 2:30pm for 3.0 & 3.5 players. Cost is $65.00 USD.
Groups will be separated by level. Location TBD.
Spaces are limited. Reserve your spot today in either the Full-day or mini-clinic by contacting Jon at pickleballtrips@gmail.com or Susan at 719-235-8797 or by registering online at www.pickleballtrips.com.
---
Open Play, Monday – Saturday
Open Play takes place every morning except Sunday from 7:00am to 11:00am. In order to accommodate all the skill levels, we are scheduling the Open Play as follows:
Mondays*, Wednesdays, Fridays:
Players under skill level 3.5 will play on four courts — Courts 4, 5, 6 and 1.
Players skill level 3.5 and above will play on two courts – Courts 2 and 3.
*Note that on Mondays, Open Play starts at 9:00am after the drills.

Tuesdays*, Thursdays, Saturdays:
Players skill level 3.5 and above will play on four courts — Courts 1, 2, 3 and 6.
Players under skill level 3.5 will play on two courts – Courts 4 and 5.
*Note that on Tuesdays, Open Play starts at 9:00am after the drills.

Continue to use the paddle holders as you are now — lower skill levels use the holders on the wind-sock side; higher skill levels use the paddle holder on the Bonifacio's side). Please do not re-arrange players' paddles once they are in the holder.

How do you know your skill level? Base it on what skill level you would play in a tournament — including our upcoming Sombrero Showdown. The USAPA provides Skill Assessment Sheets on their website. Click here for assessments for levels 2.0, 2.5, 3.0, 3.5, and 4.0. You can also ask James Main, Darren Thompson, Deb Forrester or Theresa Melius to help you determine your skill rating.

Open play is a great way to meet new friends and hone your skills. You don't need to gather a group of friends to go play, you can just show up by yourself and get in on a game. Arrive and leave at any time during Open Play.
When you arrive at the courts, put your paddle in the paddle-holder so you can get on a court and PLAY!
You can also check the calendar or court reservation system for Open Play days and times.

And remember, you can reserve your own court anytime around the Open Play times if you want to play with specific people for a few hours or do some drills with a few friends.
---
Round Robin, Sundays
All Mirador Court members are invited to join us on Sundays at 8:00am for Round Robin play.We play for 15 minutes and then rotate players and courts. It's a great way to meet and play with new people, without worrying about your scores.
Get out there and play!!
---
Private Lessons now available with James Main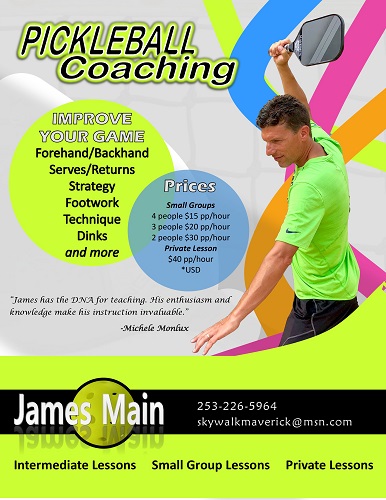 Would you like to improve your game? Get help with your forehand or backhand, learn more about game strategy, improve your footwork, dinks, and more…
James Main (5.0 player) is offering private and/or small group lessons to all San Carlos pickleball players — whether you are a Beginner, Intermediate, or Advanced player. This is an excellent opportunity to learn from one of the best players and coaches in San Carlos!
If you have a private court or a court at your housing development, James will come to you. Otherwise, the lessons will take place at Mirador Courts. If you are a not a member of Mirador Courts, you'll need to buy a Day Pass.
Click on the flyer for options and prices. For more information, contact James at skywalkmaverick@msn.com or call 253-226-5964.
---
Tournaments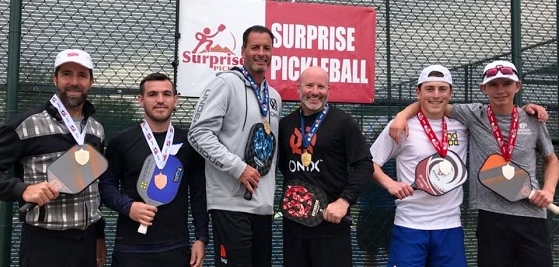 ---
Sombrero Showdown & Amigos Cup is now FULL

The Sombrero Showdown and Amigos Cup is now FULL.
There are currently 190 players registered for February's tournament in San Carlos (some of these are on the waiting list).
Players registering in any bracket now will be Wait-listed (unless they are partnering with an existing player already registered in that bracket). Some people may drop out over the next month due to various circumstances, and we will do our best to get you off the Wait List and into the tournament.
If you haven't paid your $45 USD registration fee, it is now due. If you are not able to pay via Paypal on the pickleballtournaments.com website, then please pay cash only ($45 USD or 900 Mexican pesos) at Seaside Realty. Put the money in an envelope and write on it: For Sue — Sombrero Showdown payment, and include your name(s) on the envelope so we can mark you as Paid.
Click here for more information and to get your name on the Wait List. If you have any questions, please contact Theresa (T), our Tournament Director at theresamelius23@gmail.com
---
Other News
NEW Bag Holders at Mirador Courts
We have installed new bag holders at Mirador Courts, on both sides of the main entrance. From now on, please hang your bags and water bottles on the bag holder — not on the fence.
This will help us prolong the life of the exterior fencing and will look nice and neat.
Thank you for your co-operation.
---
Flu & cold season is upon us – please stay home if you are sick
Flu and cold season is upon us. Just think about all the surfaces all of us touch when playing pickleball together. This likely means we are sharing (and spreading) each other's germs on a fairly regular basis. None of us want to miss out on anything in our little paradise, but there comes a time when you need to take care of yourself and think about the rest of us too. Let's nip this now before we have an epidemic on our hands and let's be be kind to each other by NOT sharing infected germs.
We can protect ourselves and our spouses, friends and pickleball tournament partners from getting sick by knowing these facts:
How long can I spread it?
About a week. Typically, you're contagious from 1 day before you have any symptoms. You stay that way for 5 to 7 days after you start feeling sick. You are contagious until all of your symptoms fade — not just when you feel good enough to venture out of bed.
How do I spread it?
Most of the time, it's through droplets in the air. Sick people sneeze, cough or exhale out beads of moisture that contain the flu virus. They can travel up to 6 feet. You're exposed to the flu virus when you breathe the droplets in, or if they land in your mouth, nose, or eyes. You can also get it if you touch a place those droplets land — like a pickleball ball, ball holder, gate, — and then touch your face. The virus can live on hard surfaces for up to 48 hours and on clothing or any porous surface/material for 15 minutes. If your spouse is home sick, you should probably be home too and not spreading their germs. Likely you are carrying them around on your person even if you are not feeling sick. Yep, not a enticing thing to think about but you can do this for your fellow pickleball players in the spirit of kindness.
The Bottom Line:
When it comes to the flu, an ounce of prevention really is worth a pound of cure. Please STAY AWAY from people and the pickleball courts when you're sick — even when you start to feel better. It's the only way NOT to spread the flu. There are now Purell hand sanitizer bottles available for your use by the water jugs and we'll add packs of antibacterial wipes here too. Please use these as needed or bring your own to keep yourself and your fellow players healthy this season.
---