Mirador Courts has 6 courts available to members and their guests. Click here for more information on joining Mirador Courts.
For a fee, you can also play at San Carlos Gym, the Athleticlub San Carlos and Totonaka RV Park.
Plus, there are many private courts in San Carlos. Mainly these are provided by the development where the houses are situated and are restricted to members only who can invite guests.
You can also find places to play outside of San Carlos on the USAPA website.
Contact: Ines or Receptionist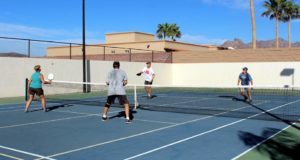 Phone: 226-0700
Address: Avenida 3 #110 at the corner of Calle IV, San Carlos, Sonora, Mexico 85506
Email: athleticlubsancarlos@gmail.com
Facebook: Athleticlub San Carlos
Days & Times Open (hours of operation):
Monday to Friday from 6:00am to 9:00pm
Saturday from 8:00am to 3:00pm
Closed on Sunday
Costs: Contact the gym for your package options.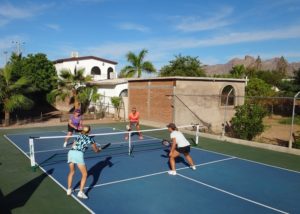 Our regulation-sized pickleball court is ready and waiting for you. We provide paddles and balls if you are just trying out or forgot to bring your own. We now have floodlights installed for pickleball court so you can play at night. We'd love to host your Tournament.
Days & Times Open (hours of operation): The pickleball court is open during the same hours as the gym:
Monday to Friday from 6:00am to 7:00pm
Saturday from 7:00am to 1:00pm
Closed on Sunday
Off hours are available with advance notice. Please contact Bev Langille at 622-109-8795, 226-1206 or email: sancarlosgym@yahoo.com. The court schedule is available at the gym or reserve online.
Reserve the court online at holdmycourt.com/reserve2/sancarlosgym. For the Club ID, call Bev.
Address: 948 Ave. L, Sector Ranchitos (On the road to Loma Del Mar), San Carlos, Sonora, Mexico 85506
Playing times are in 1.5 hour increments.
Costs:
Daily: 50 pesos for gym, pool, and pickleball court (1.5 hour court time)
Weekly: 150 pesos for gym, pool, and pickleball court
Monthly: 700 pesos for gym, pool, and pickleball court
Multi-Pass Card: 800 pesos for a 20 day-use pass (for gym, pool, and pickleball court)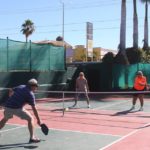 Totonaka RV Park
Totonaka RV Park has a court that may be used by non-residents of the park. A 10-visit card is required to be purchased and reservations needed. Contact Jose (the manager) for more details at 226-0481.
Private Locations
Loma del Mar is a private community with a very active pickleball court. The court is open from 8:00am – 8:00pm, 7 days a week. Playing here requires an invitation and fee payment. Contacts: Steve Szekely: 226-1180 or Deb and Fred Montgomery: 226-0699.
Marina Real Condos: contact Steve Pringle at 227-0292. This is a private court, however we welcome newcomers when accompanied by a resident.
Pilar Condos: contact Jim Hahn.
Playa Blanca Condos: contact RosaLee Colgrave at 227-0512.
Seaside Resort at Karen Stewart's: Karen Stewart is kindly offering the private court at her house for limited use by various groups. In order to use Karen's court, the group organizer needs to call Karen to make a reservation. Karen's number is 622-120-4655.
Tecali Residents Club: contact Janet Vaupel at 622-145-0048.
Vista Marina: contact Robert Frank at 227-0476.