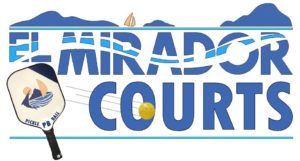 San Carlos, Sonora, Mexico has 6 new courts with beautiful ocean and mountain views. El Mirador Residencial is also home to Bonifacio's Restaurant with a pool and patios for your pre and post pickleball pleasure.
Mirador Courts welcomes all, from first time players to advanced players. To play at Mirador Courts, you need to be a Member. Click here for details.
The San Carlos Pickleball Association offers a variety of clinics, coaching and drills sessions, round-robins, ladders and mini and large-scale tournaments at Mirador Courts throughout the year.
Mirador Courts Days and Times Open
Mirador Courts is open 7 days a week.
Winter (October 1 – April 30): 7:00am – 7:00pm
Summer (May 1 – September 30): 6:00am – 7:00pm
Location of Mirador Courts
The courts are located in El Mirador Residencial in sunny San Carlos, Sonora, Mexico.