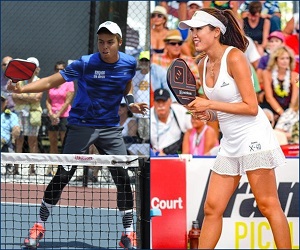 We are fortunate to have two of the top players in the world join us for a day of clinics in San Carlos.
Ben Johns has risen to the top of the pro pickleball circuit after starting pickleball in 2016 at the age of 18. He has accumulated a vast array of medals and titles at the sport's top events including Tournament of Champions, Nationals, and the US Open.
Christine McGrath is one of the top women's players on the professional pickleball circuit having consistently medaled in all the major tournaments including winning both the US Open and Tournament of Champions.
In addition to competing, both Ben and Christine have organized and taught many clinics, camps, and exhibitions throughout the USA and beyond.
On Tuesday, January 15, 2019, they will host a number of 2.5 hour clinics, based on skill level.
8:00am – 10:30am: Beginner
11:00am – 1:30pm: Intermediate
2:00pm – 4:30pm: Advanced or 4.0+
The cost per clinic is $60 USD per person. There is a maximum of 16 players per group.
The clinics will be held at Mirador Courts. If you're not a Mirador Court member but would like to participate, you'll need to purchase a Day Pass for 100 pesos.
Spaces are limited so click here to sign up today.
If you have any questions, please contact James Main at skywalkmaverick@msn.com or call him at 253-226-5964.